Do you still groan when you hear the word homework? We do too. Let's alleviate those groans with homework that's fun and easy! Homework is a media type that can be used anytime you want to receive submissions from your learners.
Need to verify that learners are retaining module information? Want them to write a short essay about your business best practices? If your answer to either of these questions is yes, then Homework will be great for you!
Oh, did we mention that submissions can include photos and videos too? Pretty sweet, right?
Using Homework in Modules
Navigate to the Content tab. Select the Homework pill, then click the blue 'create Homework' button and give your Homework a title. At this point, you'll be in the Homework profile of the admin tool: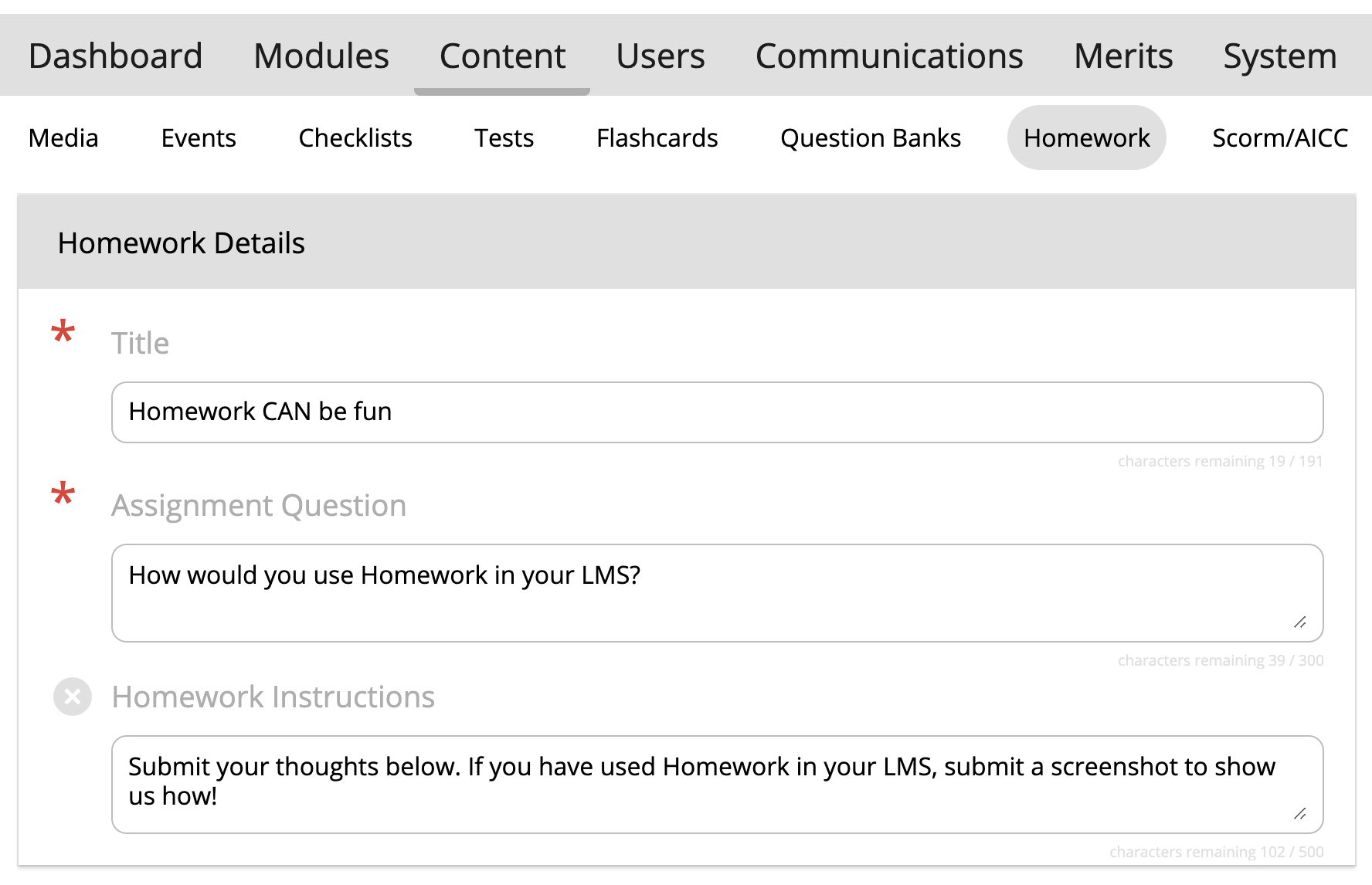 Here you can provide the assignment question and accompanying instructions. The question is the 'ask' you have for your learners, or the type of response you'd like to receive. The Homework Instructions section is for the learner's benefit, so give them clear guidelines on how to submit a response.
Get Out That Red Pen
In the right-hand column, you have all the options! Need to make media required? Want approval or to show responses? Do that here. You're also able to set permissions on the Homework itself (to do so, click into Homework, then in the sidebar's blue box you can set text block permissions).
And when you make media required, a user must submit a photo, document, or weblink with their response via the 'Add Media' button in the learner tool.
Pro Tips
If you allow submissions to be shown: within the learner tool click on the homework to view responses. If you did not enable 'show homework responses' those responses are still viewable on the learner tool, but only super admins and custom roles with the Manage Homework ability will be able to see the responses.

If you enable admin approval, a super admin or a custom roles with the Manage Homework ability will need to approve a homework submission before the module is auto-completed for the user.
For homework which requires admin approval, all admins with the ability to manage Homework (including all Super Admins) will receive notification that a homework submission is pending approval.