Do you ever wish you had a highly visible, easy-to-use recognition tool for your Users? Well, wish no longer because badges are that tool. Badges provide you with a way to recognize users for their hard work, dedication, buy-in, or any other form of recognition you'd like to provide. Oh, want to know another cool thing about Badges? Users can use badges to recognize one another, through a fun feature where they can nominate a colleague for a badge.
Start with creating the Badge
To create a badge, access the Admin Tool. A Super Admin has access to the badge functions in the admin tool, but you can also set up a role to give this access to other Users.
Badges are found under the merits tab. From here you can manage badges, approve nominations, activate or inactivate badges, and more. To begin, select the create badge button to "Create Badge".

When selecting the create badge button, you will be brought to a new page where you can begin creating your new Badge by first giving your badge a title and an optional description.

You can also change the badge image by selecting the three dots in the upper corner of the thumbnail and uploading it from your computer.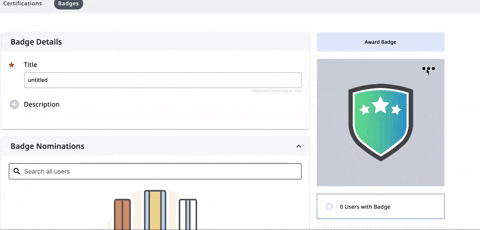 Some other setting options include the ability to activate or inactivate the badge, add a point value, or choose whether you want users to be able to nominate other users. Below this, you will also find any relevant reports for the badge.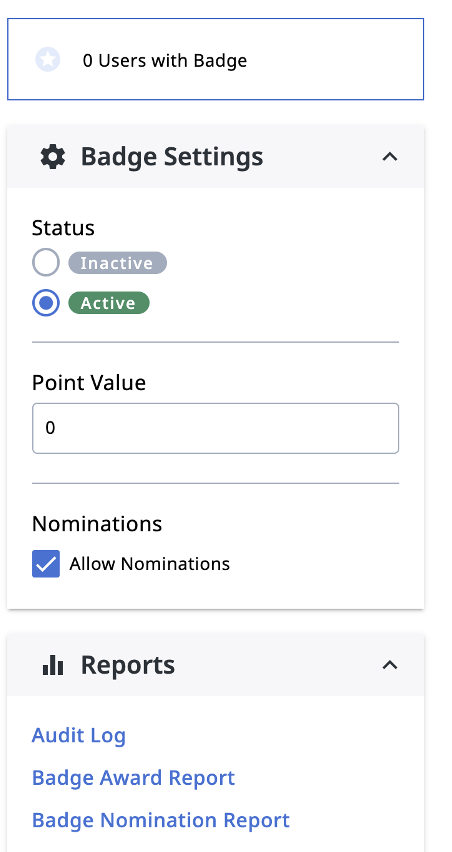 Nominations
The nominator's option allows you to permission which users you want to be able to nominate or be nominated for this badge. Select "Add Nominators" to set up your rule groups and define the Nominators or Nominees.
You can add the badges widget to a page to allow users to nominate other users. To do this, navigate to the System tab and select the Pages pill. You can add the Badges widget to an active page. Once this widget is on a page, a user can nominate another user for a badge. An admin with a role or a global admin can then navigate to the badge in the admin tools to approve or disapprove the nomination.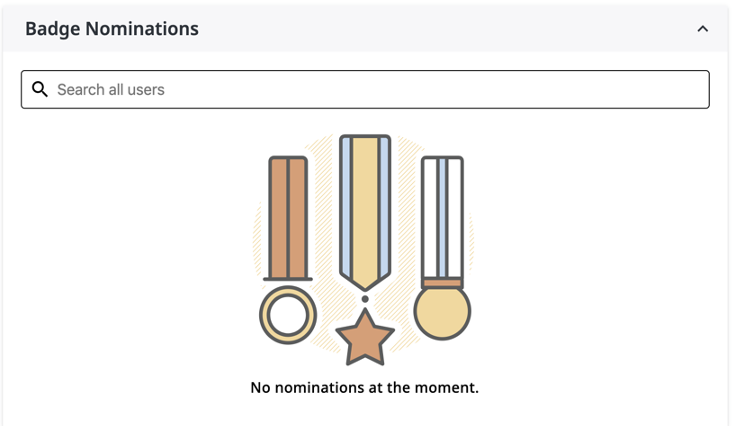 Sparks
Adding a spark will create a way for a user to automatically get a Badge by completing an action. The actions are defined by you by selecting "Add Spark". You can also apply these retroactively if need be.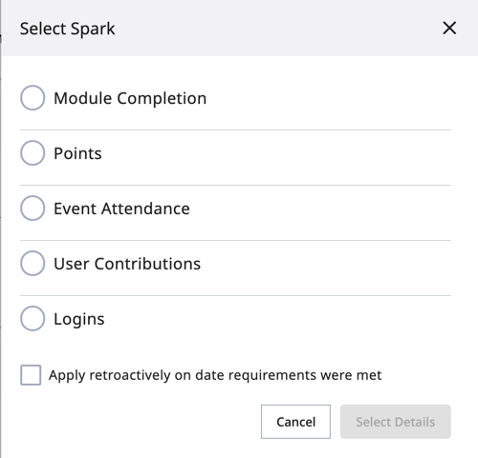 Summary
Badges are a great tool to create a social learning environment with nice recognition incentives. If you're looking to increase adoption and engagement, give badges some consideration as a means to do so.