Please visit the Advanced Tools page in The Drop for pricing details, or talk to your CX Rep.
---

Single Sign-On Integration with LMS
All users login to the Daily Checklist Tool's widget through LMS. Depending on their role, Checklist Users get access to the Fulfillment side of the application, while Checklist Admins can access to both Fulfillment and Administration side.
Checklist Creation & Administration Overview
A mobile responsive and easy to use interface has been developed to help clients author and administer a variety of complex checklists either at their office using their computer or on the go through their mobile devices.
Checklist Admins will have access to a pre-existing set of Checklist Templates in PDF format that comes with their implementation to serve as a guide for checklist creation.
Currently Ontrack Daily Checklist admins will have to start building their own checklists.
After an Ontrack Daily Checklist admin logs into the Daily Checklist Tool, they will see a list of checklists that were created by all Checklist Admins of their company sorted to display the most recent created, edited, or activated checklists.
Ontrack DailyChecklists can easily be identified by their background color and icon. Checklist Templates are tagged by a "Template" icon and Inactive Checklists are tagged by an "Inactive" icon. They both have a grey background. "Active" Checklists are easily distinguished by their white background. Checklist Users will only be able to view and fulfill Active Checklists. After a Checklist has been created it will remain in "Inactive" status until it is ready to be released to Checklist Users.
Some checklists are required to be fulfilled across all locations on a daily basis. These checklists are tagged with a "Required" icon. The right side bar can be used to filter only "Required" checklists. In combination with Status filter and sorting Checklist Admins can easily narrow the list of checklists displayed.
Figure 1 – Admin Tool – Home Screen
Ontrack Daily Checklist admins can navigate between Admin Tool and Fulfillment screens through the left side navigation panel.
Checklist Authoring
The "Create Checklist" button redirects Checklist Admins to an easy to use step-by-step process of creating a Checklist.
Figure 2 – Fulfillment - Create Checklist
Ontrack Daily Checklists are made up of Checklist Name, Description, Instructions for Users, Option to Track Scoring Metrics, and various sections with question and response types.
Checklist Admins can "Preview" checklists so they can see how Checklist Users would see them before deciding to "Activate" them. After checklists have been activated, they will become visible to Checklist Users.
Once Checklists have been "Activated", they can no longer be edited.
Checklist Admins can select the appropriate Section to add in-order to create the type of responses they expect from Checklist Users.
Figure 3 – Fulfillment - Create Checklist - Add New Section
Certain checklists must be completed on a Daily Basis. The Checklist Admin can bookmark such checklists. Bookmarked Checklists will appear on Checklist Planner and are tagged with a special icon that can be clicked to Bookmark / Unbookmark a Checklist.
Figure 4 – Admin Tool - Main screen
Checklist Planner, History, & Insights Planner
The Planner provides a list of Checklists that Checklist Users can fulfill.
Figure 5 – Fulfillment - Planner
A Checklist User may belong to multiple locations that is why we provided a dropdown list of locations so that each checklist can be fulfilled for the appropriate location.
Checklists have 3 statuses and appropriate icons help identify what stage they are at.
1. "Not Started" which are checklists that are Required to be completed as indicated by a Bookmark icon and checklists that were added through the "Add More Checklists" button. These have a circle icon.
2. "In Progress" which are checklists that some work was done on them with at least one response provided to a question. These have a semi-circle icon.
3. "Completed" which are checklists that have been submitted. These have a full-circle and a checkmark icon.
Using the Search, Checklist Users can type any letter or keyword to quickly filter Checklists.
Checklist Users can click on a checklist to fulfill and submit it. Sometimes multiple employees need to fill out the same checklist but have to submit their own checklist as proof of work done. They can click on "Add More Checklists" to add a checklist to edit, and submit.
If Checklist Users forgot to complete checklists from the day before, they cannot complete them today. For example, a Store Opening Checklist that was not properly completed yesterday cannot be completed today
Checklists that are not Bookmarked can be removed if Checklist Users added them by mistake or if the work is no longer required.
Checklists that were completed yesterday, will appear for today in the order they were completed yesterday.
A Record of Submission will display the username, location, date and time of the Checklist submission.
Insights
Checklist Insights display metrics on Required Checklists that were completed on the Planner tab.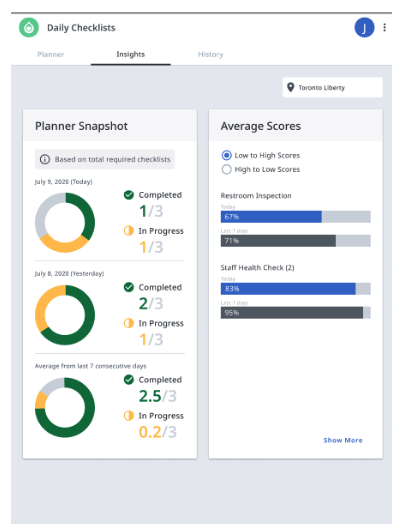 Figure 6 – Fulfillment - Insights
Planner Snapshot
The system will display 3 circular progress bars that shows the number of Required Checklists that are In Progress and Completed. It will also display the total number of Required Checklists for today, yesterday, and the average of the last 7 consecutive days.
Average Scores
The system follows a certain Scoring Mechanism to determine how Average Checklist Scores are calculated.
The system will display two horizontal progress bars for each Completed Checklist one for today and one for the last 7 days average.

Each progress bar will have % completion of each checklist.

The order of Checklist scores can be changed to show highest % completed checklists vs. lowest %

completed checklists.

Results will get skewed if closed days fall within the last 7 days.
History
The History tab displays Checklists that were In Progress or Completed in the past.
Figure 7 – Fulfillment - History
A Date Range selector allows date range selection of up to 2 years ago for every location. Past Checklists cannot be edited.
The Checklist User can click on a checklist to view the answers selected, the notes entered, and the checklist history that shows the name of the user, location, date and time the Checklist was submitted.
All Checklists will display based on the most recent modified date to the last modified date whether they were Completed or In Progress.
With filtering and sorting the Checklist User can find the right checklist for viewing.